Partnership
The UK Charity of the Year programme is a two-year partnership with a pioneering charity aiming to address society's most pressing issues by working with an expert organisation in the space. Since 1999, the programme has raised over £26million and has enabled strategic growth for 27 charities by utilising Deutsche Bank employee skills, knowledge and expertise. The partnership's overriding ambition is to create a legacy by delivering meaningful impact for the charity and the issue it aims to address.
Charity of the Year 2022-2023
MQ Mental Health Research is helping to create a future where mental illnesses are understood, effectively treated, and one day prevented. MQ is the only charity that exclusively invests into scientific research for different mental health conditions and treatments. Founded in 2013, the charity aims to double the amount it spends on ground-breaking, lifesaving research by 2025.
Through employee fundraising and utilising the bank's wealth of skills and talents, more early career researchers will be supported and retained within the field of mental health science to discover more effective solutions for the 1 in 4 of us who are affected by mental illness each year.
What people are saying
"This incredible support has meant that Hospice UK could ensure all local hospices were equipped with PPE and remained open to help patients and their families throughout the pandemic. The success of this partnership will prove pivotal in transforming the future of end of life care for years to come, helping to make sure that end of life care is available and accessible for everyone who needs it. Thank you to everyone at Deutsche Bank for an amazing two years."
Fundraising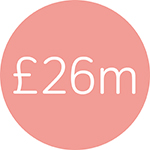 Charity of the Year programme has raised over £26 million for 27 charities.
One Day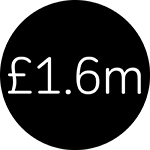 Charity of the Year programme raised almost £1.6 million across two years through the bank's One Day annual fundraising campaigns in 2020-2021, where employees donated a day's salary, that was matched by the bank.